Concrete Cutting & Coring

Edmonton Concrete and Asphalt is a licensed multi-faceted contractor whom provides a comprehensive scope of services throughout Alberta and its regions. We encompass the Industrial, Commercial and Residential areas for all of your Edmonton Concrete, Asphalt & Paving, Parking Lot Maintenance, Excavation, Demolition and Epoxy Surfaces service needs.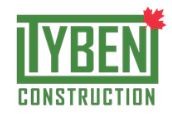 Tyben is your one-stop-shop general contractor. Agricultural, industrial, commercial & residential. We can manage your entire job from start to finish; including obtaining permits and hiring subcontractors.