Best Siding Contractors near Edmonton, AB

Edmonton Siding Contractors can update your home with brand new siding installation. Not only does high quality siding protect your home, it increases efficiency and property value. The reputable siding contractors in Edmonton listed below offer vinyl siding, eavestroughs, soffit and fascia and window capping services. Competitive pricing, superior workmanship and a variety of quality products make them a smart choice for your siding renovation.



For new construction, exterior renovations, upgrades and repairs, you can entrust your home to the bonded and insured crews of A B Renovations. Have your windows, exterior doors and siding pay for themselves in energy savings and enjoy affordable curb appeal. When looking for siding contractors in Edmonton, consider us.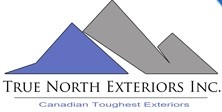 At True North Exteriors, we ensure every costumer is satisfied by providing quality services and reliable products.
Our professional and experienced in house formed crews will perform outstanding work for your next house project. From a new roof, new windows, eavestroughs, siding, deck or even a new garage we will be happy to provide you with our top work.
Contact us today to receive a free quote, or to learn more about our services!
We are your Edmonton Roofing, Siding & Window Specialists
With decades of experience Smart Home is among the most trusted exterior envelope professionals
Licensed, Bonded and Insured
Finance Options

The professionals at MCM Home Exteriors have been renovating Alberta homes for over 30 years. Whether you want to lower your energy bill, boost your property value, or improve your home's aesthetic appeal, we can help. The next time you need professional exterior renovations in Edmonton, Red Deer, and more, call MCM.