Heating & Air Conditioning Contractors near Edmonton, AB

HVAC stands for heating, ventilation and air conditioning. Your heating system plays a key role in your home's efficiency and energy bill. Save money and keep warm all winter with a high efficiency furnace replacement. When you consult a trusted Edmonton HVAC contractor, they'll show you your best options for both furnace and air conditioner installation. Get started by browsing our trusted directory! Find a HVAC Contractor in Edmonton today.


Hydro-Flo Plumbing & Heating has been a trusted plumbing company in Edmonton since 2006, providing scheduled and emergency services for commercial, residential and multi-family buildings. We provide expert plumbing and heating repairs and installations for any structure, from single family homes to high rises, and our reliable team is on call 24 hours a day to serve your needs.

Our Story

SINCE 1995...We have been providing ACCLAIMED! service from our family to yours. Keven and Tami (husband and wife) started ACCLAIMED! Heating, Cooling & Furnace Cleaning with a strong desire to provide an outstanding customer experience from beginning to end.

We cleaning, service AND install furnaces, air conditioners, humidifiers, hot water tanks and air filter systems.

We understand the privilege it is to be chosen as your service provider and we take that responsibility seriously, Our hiring process is deliberate and long. We only hire people that we would trust and want to have in our home, personally. We hire for skills and attitudes alike! They must be aligned with Acclaimed's core values of TEAMWORK, ACCOUNTABILITY, RESPECT & INTEGRITY.

Throughout this journey, Acclaimed! has achieved recognition for various awards such as the HomeStars "Best Of" & Consumer Choice Award for Northern Alberta Awards for 2015, 2016, 2017, 2018, 2019, 2020 and 2021. We have been honored to achieve these awards as a result of the "customer-first" approach upheld by our entire team, and our valued customers that have continued to support us over the past 25 years. The generous referral of our name to families and friends is the greatest compliment we could ever get!

We offer Trane, Carrier & Goodman furnaces & air conditioners - providing you the choice that is right for you. Financing is available for equipment installations through SNAP Financial - head to our website and click on the SNAP link (at the bottom of the page) to get your instant pre-qualification!

Gratefully yours,
Tami & Keven Lackey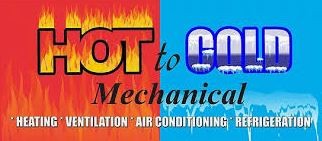 Hot to Cold Mechanical in business now open over three years to offer honesty, integrity and quality, not easy to find. It's prospering quickly, with people very happy and spreading the word fast. For your heating and cooling needs we use Keeprite systems, who is the world leader in commercial refrigeration. In supermarkets they'll keep all refrigerated products cold or frozen, with the 24/7 constant response to an average of 175 temperature and pressure sensors. Keeping attention to an average of one thermostat in your home is nothing. Keeprite has been out there in the residential world just as long as any other names you know (Trane, Lennox, ect.). These common brand names won't go near refrigeration due to it's difficulties. They are the most seen because they offer their contractors future service. Keeprite rarely needs service and why few will offer it; as they are selling you the "service" instead. We give free labor with their 10 years of free parts because it rarely & near never happens with Keeprite. They can't let problems occur in a supermarket and put products at risk, and why contractors in these spaces love their name due to their low service, and serviceability if needed. This made them refrigeration's world leader, that they won't let the simple HVAC needs affect, and have perfected in both commercial and residential as well. Customer satisfaction with top quality products and work is all we offer to keep you smiling.

In our gallery below, you will see some of the average commercial systems Keeprite uses . The residential photo's are proving how simple their work for you is, and serviceability for us.
You will also see photos of one of the final commercial residential jobs done as the HVAC mechanical foreman before opening. This proves the quality and workmanship only seen from this company.
Call at any time for free quotes for your heating or cooling needs, and we will be very pleased to help you with financing available if needed.

Dechamplain Heating & Ventilation Ltd. is a family run business that has been in operation since 2006 serving the Greater Edmonton areas and outlying communities. We provide expert energy efficient solutions for your new home, renovation, basement development projects. We can help you plan or cultivate a productive working relationship with your general contractor. We can help you earn income with a new basement or garden suite designed to conform to all building codes. Do you have commercial space with outdated HVAC equipment, let us help you reach your future needs. We can install garage heaters, HRV, air cleaners, humidifiers, bathroom fans and kitchen exhaust. No job is too small.
Every job is custom and we give the best price to everyone everyday. All quotes are free.