Best Metal Roofing Contractors near Edmonton, AB

Metal Roofing Contractors in Edmonton have the knowledge, equipment and skills to get any roofing job done correctly and safely. When you install a metal roof in Edmonton, it might be the last roof you ever buy! The Edmonton metal roofing system is resistant to moisture, rot and UV rays. It is virtually maintenance free and can last for 50 years or more! Gain peace of mind knowing your roof will protect your home for a lifetime and contact one of the trusted metal roofing contractors in Edmonton listed below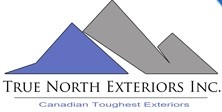 At True North Exteriors, we ensure every costumer is satisfied by providing quality services and reliable products.
Our professional and experienced in house formed crews will perform outstanding work for your next house project. From a new roof, new windows, eavestroughs, siding, deck or even a new garage we will be happy to provide you with our top work.
Contact us today to receive a free quote, or to learn more about our services!
At AMT Roofing, we are experts in building roofing that lasts. Our beautiful and durable metal tiles offer the best in protection and long-term savings. Shield your home or building from the tough elements in Edmonton. Start with a roof that will last you a lifetime – guaranteed!
Edmonton Metal Roofing Companies
Read Article >>> ROOFING MATERIAL COMPARISON GUIDE 2019