Best Stair Builders near Calgary, AB

Calgary stair builders can help you create a beautiful staircase and railing system that will turn a functional staircase into a piece of artistic design. Not only will custom stairs in Calgary enhance your own personal enjoyment of your living space, it will increase property and resale value. Whether you need a staircase that will fit into a unique space or want to create a dramatic focal point, get started by contacting one of the stair companies in Calgary listed below.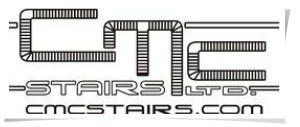 The primary objective of CMC Stairs Ltd.
is to provide our customers with the highest quality custom and standard straight stairs at a fair market value.

Proud winners of no less than 20 Consumers' Choice Awards for Business Excellence, Prestige has raised the actual business of creating stairs and railings to new levels.
Artistic Stairs & Railings draws on our nearly 40 years of local Calgary experience to provide our clients with dramatic designs for their small or large projects. We like to stretch industry standards to find the best solution for our client's projects. We look forward to working with you on your project, give us a call or email today.