Best Gas Fitters & Gas Line Installation Services near Calgary, AB

Gas line installation in Calgary should always be done by a certified gas fitter. Gas is highly explosive and if it is not done properly or there are leaks, it could cause an explosion or carbon monoxide poisoning. Whether you are looking for a natural gas BBQ hookup, are installing a gas range, fire place or require gas line repairs, an Calgary gas fitter will ensure the job is done correctly, safely and to code. Contact one of the experienced and certified gas fitters listed below.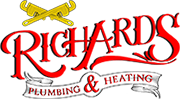 At Richards Plumbing & Heating we strive to ensure our customers receive quality work at a reasonable price. We guarantee your project will be on time, on budget and to your satisfaction from start to clean up.
Whether you are building your home or business from the ground up or you simply need to change an old tap, give Richards Plumbing & Heating a call for your residential or commercial plumbing & heating needs.
Expert Gas Line Installation Companies in Calgary