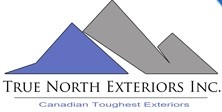 At True North Exteriors, we ensure every costumer is satisfied by providing quality services and reliable products.
Our professional and experienced in house formed crews will perform outstanding work for your next house project. From a new roof, new windows, eavestroughs, siding, deck or even a new garage we will be happy to provide you with our top work.
Contact us today to receive a free quote, or to learn more about our services!