The Best Infill Home Builders near Calgary, AB

Calgary infill builders will help you design and construct the home of your dreams in your desired neighbourhood. Infill housing in Calgary reduces urban sprawl, makes use of current infrastructure and allows more people to live in established, central neighbourhoods. If you have a lot and are ready to build, start by contacting one of the trusted infill house builders in Calgary below. They provide excellent customer service, quality craftsmanship and will guide you through the home building process every step of the way.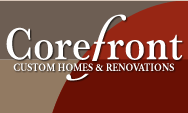 At Corefront we've built our company around you. From foundation to finishing; it's all customer encompassing. Our goal is to provide the best service in Calgary's renovation industry ensuring clarity, integrity and transparency. We will be walking with you every step of the way through this exciting journey. Even our contract format is user friendly, no up front deposit is required.

Shamrock Mountain Building is a Residential construction company based out of the Calgary area. Shamrock offers a large range of professional, calculated trades with only the best of quality at all times. Calgary operations focus on Custom Home Building and Renovations. Shamrock truly believes that great working relationships and daily communication with Architects, Designers, Clients and Subtrades is Key to closing out all contracts with optimum results and satisfied clients.

My name is Dale Higgins, owner/operator. Many of our Calgary clients also have holiday residences in BC Kooteney areas which we also service with an operation group located in Golden BC. Tim Higgins, my brother, runs services from Revelstoke through the Columbia Valley all the way to Windermere.

Shamrock ranges from small contracts all the way up to general contracting multi-million Dollar projects. Solid team attitude from all workers make each project efficient, cost effective, and completed on price and on time.