Stucco Contractors near Edmonton, AB

Stucco contractors in Edmonton can help improve curb appeal and protect your home with new exterior stucco. Edmonton stucco companies can offer traditional or acrylic stucco for your project and both options will provide a solid and seamless home exterior that is durable, long-lasting, low maintenance and resistant to fire and moisture. Give your home better protection and a clean, updated look with new stucco siding. Get started by contacting one of the reputable Edmonton stucco companies listed below: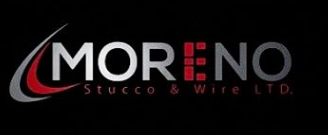 Moreno stucco started specializing in all stucco Exterior Finishes.Through the many years of experience we seen the need, and have been building a team to take care of all our customers exterior needs From one place, for better service, and making a better experience for our clients.

- Soffit, & Facia, Eavestroughs
-Windows and doors.
- All stucco finishing, styles, and systems. Our wealth of experiance in most stucco finishes and textures, enables us to take care of those older style homes to repair, or install a brand new system and style
- Parging and Stucco Repairs
-Exterior Painting
- Roofing applications: include Asphalt shingles, rubber, metal, standing seam...
-masonry: manufacture or natural stone. brick veneer
- Exterior cladding includes: Hardie, board and panels, metal, vinyl siding....

From small renovations and repairs, to big commercial projects, we got it covered.

We are experienced professionals who take pride in our work and in our clients' satisfaction.

As specialists in residential, commercial sloped roofing & exteriors services, Red Panda Roofing & Siding Ltd. are dedicated to providing customer service that is second to none. Whether you have a new construction project or it is time for renovation or repairs, we offer the roofing & exteriors services you need. We provide a full consultation to explain your available options so that you can choose the roofing & exterior plan that's right for your home or business. We will work with you and adhere to your personal needs, and then we'll be in work with you through the whole project. Red Panda Roofing & Siding Ltd. appreciates your business and looks forward to working with you.

SPRING SPECIAL $0.00 down 0% interest no payments until 2022! Contact us today for more information and get a free quote