The Best Insulation Companies near Halifax

We specialize in blown-in cellulose, spray on cellulose, batt insulation, blown and batt fibreglass, rigid insulation, and tank & pipe insulation. We are expert at retrofitting existing construction as well as new construction.
We have been consistently providing cost effective quality work to our clients throughout mainland Nova Scotia. We specialize in Spray foam insulation and EIFS (externally insulated finish systems), sometimes referred to as modern stucco. Either way you will improve your buildings comfort and energy efficiency.
High heating bills, drafty rooms and ice dams could be a sign that your home needs insulation. We will complete a thorough inspection of your walls and attic insulation and make recommendations for needed improvements.

The energy-saving team at Hometite specializes in retrofitting your older home with blown-in cellulose insulation. Keep the stale air moving out of your house and the fresh air moving in with a new heat recovery ventilation system.
Categories:
Cabinets
,
Carpet & Rug Dealers
,
Carpet & Rugs
,
Deck Products
,
Decks
,
Doors
,
Drywall
,
Drywall Supplies
,
Fence
,
Fence Materials
,
Flooring
,
Hardwood Floor Retailer
,
Hardwood Flooring
,
Insulation
,
Insulation Materials
,
Laminate Flooring
,
Paint & Supplies
,
Painting
,
Roofing
,
Roofing Materials & Supplies
,
Siding
,
Siding Materials
,
Stock Cabinets
,
Stucco
,
Stucco Materials
,
Tile Flooring
,
Vinyl flooring
,
Windows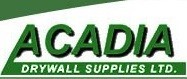 Acadia Drywall Supplies Ltd. is a diversified distributor and manufacturer serving the construction and building supply markets.

We are proud of our achievements in the building supply industry and will continue our tradition of offering exceptional customer service, accurate estimates, on-time delivery and quality products at competitive prices.

Categories:
Deck Products
,
Decks
,
Doors
,
Drywall
,
Drywall Supplies
,
Fence
,
Fence Materials
,
Insulation
,
Insulation Materials
,
Roofing
,
Roofing Materials & Supplies
,
Siding
,
Siding Materials
,
Windows
The Home Depot is your one-stop shop for everything under the sun
Categories:
Cabinets
,
Closet & Storage Solutions
,
Countertops
,
Deck Products
,
Decks
,
Doors
,
Drywall
,
Drywall Supplies
,
Fence
,
Fence Materials
,
Flooring
,
Furniture
,
Furniture-Outdoor
,
Garage
,
Garage Organizers
,
Insulation
,
Insulation Materials
,
Laminate Countertops
,
Landscaping
,
Landscaping Materials & Supplies
,
Lighting
,
Paint & Supplies
,
Painting
,
Plumbing
,
Plumbing Fixtures, Parts, Supplies
,
Rubber Flooring
,
Siding
,
Siding Materials
,
Solid Surface Countertops
,
Stock Cabinets
,
Stucco Materials
,
Windows