The Best Insulation Contractors near Saskatoon

Insulation contractors in Saskatoon can advise where your home is losing heat and how you can decrease your energy bill with new insulation. Updating your attic insulation will help keep your home warm all winter, cool in the summer while reducing energy costs and your impact on the environment. Learn how spray foam insulation, blow-in blanket insulation, batting and attic insulation can improve your home's energy efficiency and reduce your energy bills by contacting one of the best insulation companies in Saskatoon listed below.



Poly Plus Insulators have been providing quality batt and blown insulation, vapour barrier and spray foam services for new and renovated homes since 1996.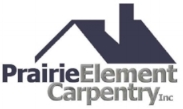 Prairie Element Carpentry specializes in various aspects of carpentry and housing development. From the beginning we have been committed to excellence in all aspects of our trade. We offer professional and skilled carpentry and contracting services to our customers by providing educated and skilled tradesmen.