Best Concrete Countertops In London

Concrete countertops in London are becoming a popular choice among homeowners. They'll add character and style to your home and are very durable; resistant to water, stains and heat when sealed properly. London concrete countertops companies can completely customize your concrete countertop, allowing you choose from a variety of designs, colours, textures and finishes. Contact a London concrete countertops company below for quality products, professional concrete countertop installation and beautiful results.



Taking concrete to a whole new level in interior and exterior design.

Working with concrete allows us to create unique solutions, from custom concrete wall tiles and fireplace surrounds, to custom concrete furniture, and more.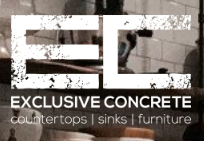 Exclusive Concrete started as a dream some time ago when I first started researching countertops and artisan concrete pieces. After discovering the many different applications of concrete, my interest was piqued. From that moment on the idea of using concrete as an alternative resource for everyday applications became an obsession for me.