The Best Solid Surface Countertop Companies near Kitchener, ON

Solid surface countertops can mimic the natural look of wood and stone countertops. They can be made from a variety of materials including acrylic or polyester resins and a blend of natural minerals. Get creative with different blends, colours and styles with these low maintenance, non-porous, and durable countertops. The Kitchener companies below can help you choose your solid surface countertop providing quality products and service from the showroom through installation.



Bring the look of stone, concrete, wood, steel, gloss, and colour into your home or business and pay less than you expect. We guarantee that our products and services are exemplary.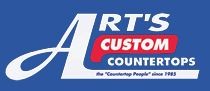 Art's experienced staff will do the full countertop installation, which includes plumbing. To simplify your renovation, we offer a large variety of sinks and faucets. We also supply the do-it-yourselfer at the most competitive countertop prices in the area.