Foundation Repair Contractors near Hamilton, ON

Hamilton Foundation repair contractors can improve the value, comfort and safety of your home. Foundation damage can be costly and time consuming but is worth the effort as it can reduce or eliminate the need for repairs to other parts of your home. Companies that offer foundation and basement repair in Hamilton can inspect your foundation issue, inside and outside, and offer effective and efficient solutions so your home maintains its structural integrity and value. Contact one of the experienced foundation repair contractors below.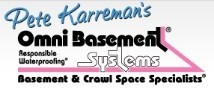 We Help Make Your Dry Basement Vision a Reality

Tom and his team have been doing basement waterproofing, structural repairs and new construction projects for more than 27 years

We have been digging basements and pools, repairing foundations and installing septic and sewer systems throughout the Hamilton, Burlington and Oakville area since 2001.

Problem solving backed by solid engineering is the very foundation of our business.

With over 20 years in the construction industry our experience and variety of equipment allows us to provide services not readily available