Mold Testing & Removal Companies near Victoria

Mold in your home can cause serious health issues and spreads quickly if not dealt with, especially if it's black mold. The companies listed below are experts in mold and mildew inspections, removal and prevention. They'll show you how to clean it yourself, or if the case is extreme or unsafe, offer professional mold removal services.



Victoria, British Columbia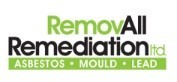 Our job is to remove all of the potentially hazardous materials in your space. We service the commercial, industrial, real estate and home markets with the same care and consideration.
Victoria, British Columbia

Hazpro maintains a highly specialized mobile fleet of equipment. Our crews and equipment have the flexibility to complete a project virtually anywhere.
Expert Mold Removal & Testing Companies in Victoria