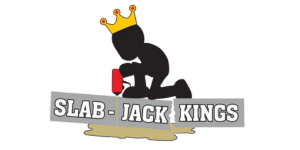 Are you tired of dealing with sunken, uneven concrete slabs on your property in Winnipeg? Say goodbye to those hazards and hello to the ultimate solution – foam jacking provided by Slab-Jack Kings™! We are the leading experts in concrete lifting and levelling, and we are here to transform your uneven, settled or out-of-level slabs into safe, stable, and visually appealing areas.

With years of experience in the industry, Slab-Jack Kings™ has become synonymous with excellence in concrete lifting. Our team of highly skilled professionals possesses the knowledge, skills, and cutting-edge equipment necessary to tackle any concrete lifting project in Winnipeg, regardless of size or complexity.

FREE ON-SITE ESTIMATES

10-YEAR CONCRETE LIFTING WARRANTY

SAVE UP TO 85% LESS THAN THE COST OF REMOVAL AND REPLACEMENT

100% FAMILY OWNED AND OPERATED

CERTIFIED, LICENSED, CAPABLE AND TRUSTED

$5 MILLION IN LIABILITY INSURANCE

PERSONALIZED SOLUTIONS TO ANY AND ALL CONCRETE PROBLEMS

UNMATCHED COMPRESSIVE STRENGTH

RAPID RESULTS

UNLOCK AFFORDABLE EXCELLENCE

VISIT WWW.SLABJACKKINGS.COM !